Your website is your passion which you believe you can turn into a paying business.
And this is why it is important to think of your Web Hosting provider as a not only a platform but as an investment.
There are dozens and dozens of web hosting providers, ranging from starters to billion-dollar companies such as Bluehost and Siteground.
Trying to figure out which of them is best will only make us confused as each of them has own sets of advantages and disadvantages.
Bluehost, fortunately, belongs to the former category. In this Bluehost review, you'll see how Bluehost focuses more on its clients' happiness.
Let's dig into this review.
Why BlueHost?
Bluehost is one of the world's oldest and largest web hosting providers. It's a brand of Endurance International Group.
The founder of Endurance started working on an advanced and easy to use web hosting platform in the late 90s, and it was 2003 when they came up with Bluehost.

Since then, a lot has changed in the world of internet and websites, and Bluehost has always been on the leading side.
Today, Bluehost hosts more than 2 million websites worldwide and is recommended by WordPress as well.
Bluehost Review:
1. Faster Website Loading: (Average of 500ms-1s)
Search engine algorithms always prefer websites that load faster. So, if you want your website to appear in the top search results, speed is something you cannot ignore.

Of course, there are many factors affecting the loading speed of your website, and your hosting server plays a major role in it.
Endurance's open internal data shows that Bluehost TTFB time hardly goes over 0.4-0.5 ms.
Godaddy and other hosting providers, on the other hand, range between 0.6-0.7 ms. The worldwide average loading speed of websites on Bluehost is 150 ms, while on other providers is between 150-180ms.
2. Security
Security is one of the biggest concerns of all non-technical clients. They always have this question in their mind, 'What if my website gets hacked?'
Every Hosting company undertakes some measures to prevent its users from hackers, spams and malware attacks.
But Bluehost is one of the few who give a lot of security features in their hosting price only and not with further add-on purchases.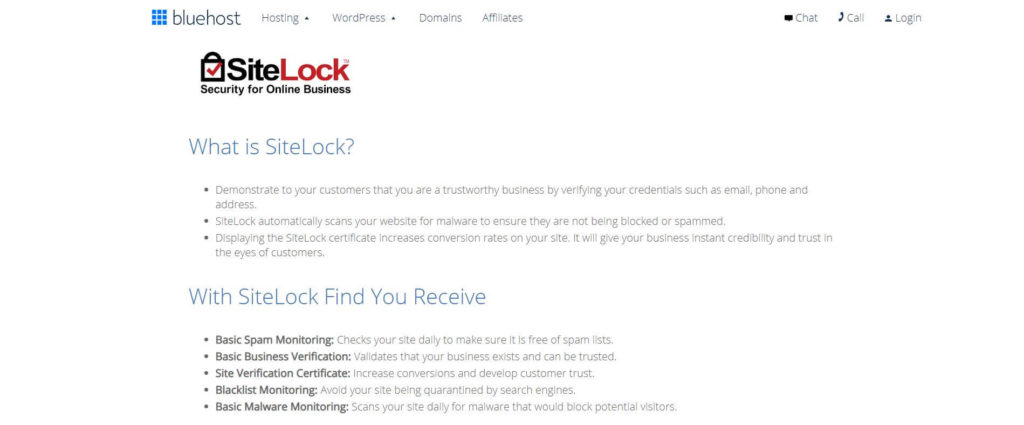 Read full security features on Bluehost Blog.
Basic features: The basic security features provided by Bluehost are SFTP, free SSL (HTTPS) certificate, and SSH access to programmers. These are industry standards. Bluehost also works on PHP 7 which monitors the force attacks.
Domain Privacy: For clients with Choice Plus and Pro plans, Bluehost provides Domain privacy. This helps in protecting your important data from hackers even if they are successful in hacking your website.
SiteLock: Malware attack is one of the most common attacks you'll face on WordPress websites. Bluehost protects you from these attacks with an additional feature called SiteLock. It's true you have to pay for it, but securing your website against Malware is very important.
Spam Experts: This feature is for Choice plus and Pro accounts and it filters spam emails sent by hackers to phish your website.
3. Daily Backup with CodeGuard
An important feature you'll find only on Bluehost is CodeGuard. It's available for Choice Plus and Premium members.
Codeguard is a daily backup of your website. In situations when your website is hacked, you can simply re-upload the previous version of your website without having to create it all over.
Siteground also keeps a backup for 30 days, but CodeGuard on Bluehost is easier. You'll hardly find any other web hosting service with such a smooth backup.
4. Best Uptime Guaranteed: 99% Always
Server down is a very common phrase heard about websites. Uptime is an indication of how well the server performs throughout the year. Of course, it is highly implausible to expect 100% uptime.
But, the closer it is to 100%, the better. This is even more important for e-commerce websites because long server-down can be catastrophic for your sales.
There are only a handful of web host providers that repeatedly provide more than 99.90% uptime. Godaddy and Hostgator generally range between 99.94%to 99.98% uptime.
Bluehost also has a very impressive uptime from 99.95% to 99.99%.
So, if server-down is something you cannot tolerate, then Bluehost is your best bet.
5. Best for WordPress Hosting
Getting recommended officially by wordpress.org is a great achievement for any hosting provider, and Bluehost has it.
Only Siteground and Dreamhost are other providers which can boast WordPress recommendation.
Installing WordPress on Bluehost is a matter of just one click. It is also Bluehost's selling proposition: '1-click WordPress install'.
You get a free domain, FTP, email account, and an excellent customer care support from WordPress.
6. Advanced Website Features
Other Features: Other than 1-click WordPress install, Bluehost also has other features such as WooCommerce (for e-commerce services), Joomla, Drupal, etc.
Apps and Integrations: When you start with Bluehost, you're provided with a lot of integrations and apps to enhance the speed and performance of your website.
CDN: It stands for Content Delivery Network. Its work is to customize your large files so that they load faster all over the world. And as we said earlier, search engines love fast-loading websites.
7. Starting With Lower Pricing: Starting From $2.95/month
When it comes to pricing, tech experts put Bluehost in the category of Medium-low.
Basic Plan: The Basic plan starts for just 2.95$/mo in which you get 1 website, 50GB SSD storage, 5 email accounts, and 25 subdomains. When you compare it with Siteground's cheapest plan, you'll find that for almost the same price, you get only 10GB storage.
Higher Plans: No plan of Siteground offers you unlimited storage. But on Bluehost, you get unlimited storage on Plus, Choice Plus, and Pro accounts. In terms of sub-domains too, while every other hosting provider has a limit, Bluehost goes with "unlimited".
8. Unmetered Bandwidth
If you check the pricing and features on Bluehost Shared Hosting, you'll find it has "unmetered bandwidth" for all plans.
This is very essential if the traffic on your website keeps increasing.
Bluehost doesn't create any problem with the traffic even if you're on the cheapest plan.
Other hosting providers always limit the bandwidth for every plan.
And when the traffic tends to cross the limit, they'll start bugging you with notifications regarding upgrading to costlier plans.
9. Email Accounts
Here again, Bluehost follows the theory of "unlimited" except for the basic plan. For Basic, you can have 5 email accounts with storage of 100 MB.
For higher plans, both the number of accounts and storage become unlimited.
Siteground and Godaddy, on the other hand, impose limits on the number of email accounts and storage no matter which plans you choose.
10. Ease of Use
Web hosting providers know that what they're doing is very complicated for non-technical people to understand.
This is why they have been working towards making the user interface as easy as possible.
Most of the companies use a c-panel as the dashboard for their clients. It's the industry basic, and the tools are displayed like the icons on the desktop.
Bluehost categorizes the features in different sections such as email, marketing, resource etc so that even beginners can understand how to access them.
Siteground and Hostgator also have similar c-panel for their clients. Godaddy once used a different panel which was a bit tedious to use.
They switched to c-panel in 2013, but that also caused a hike in their prices.
11. Customer Care
When it comes to websites and domains and servers, one thing which you're sure to encounter is "Troubles". But what's important is how your hosting provider solves the troubles.
Bluehost uses both live-chat and calls as the means to help their clients. When you go to Bluehost support, you'll see a list of common problems.
If your problem falls in any category, soon an expert will be there to help you.
Also, If you have a different problem, you can use the call button and explain your problem verbally. Even if you're not comfortable with calls, you can use the chat button.
Many other hosting providers tend to push every support-feature to calls only. It takes more time because first, you have to explain your problem to a representative, who then assigns a suitable expert to help you.
12. 30 days Money-Back Guarantee
As we said earlier, Bluehost believes in making its clients happy because that's what makes them refer to others.
Bluehost provides 30 days money-back guarantee on all of its hosting plans. If you find that Bluehost is not up to your expectations, you get refunded without any question.
Cons of Using Bluehost:
The migration of your site from some other platform to Bluehost is very expensive.
The renewal of plans is not cheap. The only way to save money is to buy a long-term plan.
Many clients complain of continuous up-selling from Bluehost.
SiteLock and other security features cost extra money.
Conclusion
One thing you'd get from an established web hosting provider is trust and security. Bluehost is a platform that provides so many tools and apps at much lower costs.
They ensure that your website will load faster all the time and their customer care is always there to help you.
So, if you're looking for a reliable web hosting provider for your website, then you should definitely try Bluehost.
If you find this Bluehost review helpful. Do let me know in comment section.