In this article, we are going to discuss the best lead generation methods and strategies. Let's get started
Lead Generation is currently the second-largest buzzing topic in the blogging and marketing world after best SEO practices.
In easiest words, lead generation via lead magnets is the process in which you offer free value to people in return for their contact details, mainly emails.
But, in the age of piling unread emails in the inbox, people are a bit touchy towards giving their emails, and this is why it has become a trickier task for marketers.
We all know that webinars and ebooks are the easiest ways to make people signup for our newsletters. White pages and email courses have also become the best lead generation tools.
"Lead magnet" is the collective term for all these offerings.
But how do we create compelling lead magnets that entice the visitors? This is exactly what we will look at in this article.
Method 1. Lead Generation through Landing Page
Before we start on our journey, let's understand the role of a well-designed landing page in lead generation and how to create one.
Landing pages are where you guide your visitors and exchange valuable contents in return of their email.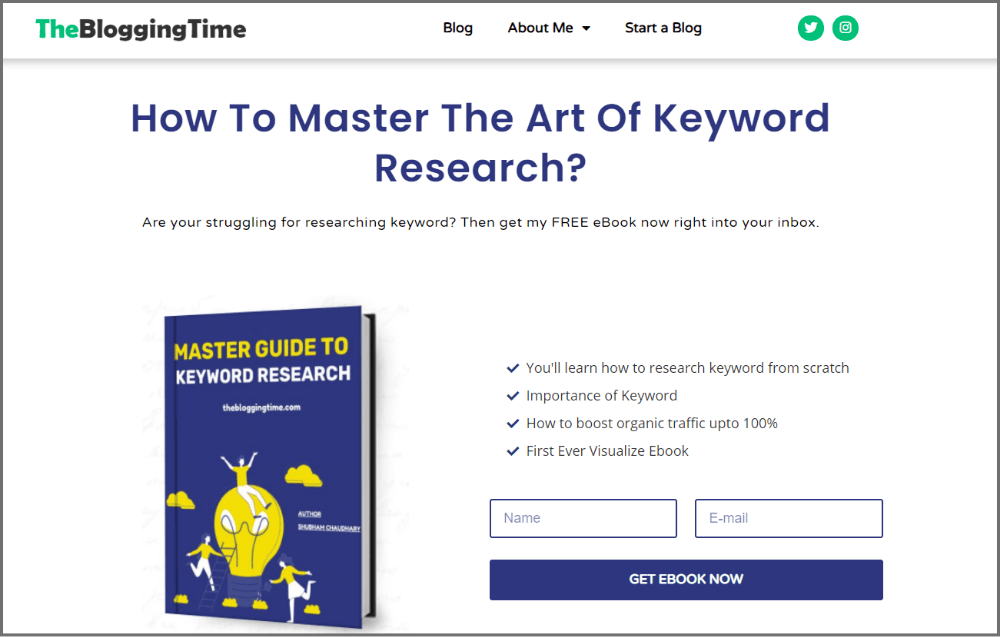 It's the landing page where a visitor can get attached to your business for a long time. And this is why its importance is even bigger than the sales page it's a lot easier to enter email rather than the credit card number.
How to Create a Landing Page for Lead Generation
If you're familiar with programming or if you have developers in your team, you can create a landing page by coding.
If you use WordPress, then all the best WordPress themes such as Generate Press and Elementor Page Builder offer the facility of creating landing pages.
However, if you don't have the above advantages, then there are so many online platforms dedicated to create landing pages and help you in lead generation.
For ebooks and white pages, the best ones are Unbounce, Leadpages, Kickofflabs, Instapages etc.
Instapages are Unbounce cost around 70$ to 100$ a month with a one-month free trial. They offer tons of attractive templates for designing compelling landing pages.

However, if you don't have this much budget, then you can use Leadpages. It is cheaper and is extremely easy to use.
If you are good with a camera and presentation, then you should definitely use a webinar for lead generation.
To create landing pages for webinars, you can use platforms like Gotomeetings, Anymeetings and Zoom.
For an email course, you can create a landing page with any email marketing platform like Mailchimp, Aweber and GetResponse. They also help you with creating the email course.
Things to do in a landing page
1. Clear and Crisp Headlines:
Use clear and crisp headlines which explain what value the audience will get in one sentence. The thing is that headlines are the first thing people read.
And most of the time, they are the only thing people read. Creating a landing page headline is not very different from creating a headline for a blog post.
The point is to grab the attention instantly and give visitors a reason to click on it.
2. Explain Everything:
Explain everything about the value you're providing. If it's an ebook, explain in easy terms what it is about and who should read it.
The same goes for white pages too. For email courses, explain how many days the course will run and what users will be getting in each topic.
For a webinar, provide the time and date of the webinar. Ensure that even when people don't read the entire information on the landing page, they won't forget the date and time.
Providing a little information about the creator(s) and author(s) will add credibility.
3. Call To Action Buttons:
CTA button is what you want the visitors to click on. This is where the real lead generation will occur. So, make sure it is visible and obvious in all the places.
Use bright colours like red, orange and blue for CTA buttons.
4. Add a Nice and Short-Form:
Add a short keyword, where visitors will enter their name and email to avail the value.
Ask for only what you need.
Keep the form as hassle-free as possible
5. Thank You Message:
Once people have signed up, add a personalized Thank you page to show gratification.
Things Not to Do in Landing Pages
Stick to the point: Don't confuse your visitors about what they'll get and what they have to do.
Deliver What you Promised: Don't create a difference between what you promise and what you deliver.
Too Much CTA Buttons: Don't provide multiple call-to-action buttons. Use only one in different places throughout the page.
Too Much of Text: Use images and graphics in addition to texts to make your landing page look vibrant.
Unrelated Information: Don't ask for unnecessary information in the form.
There's no point in asking for phone number unless you plan to do marketing via phone calls. Don't ask for mailing address if you don't have any important thing to send them.
Lead generation is about staying in touch and providing information about the latest content you create. In most of the cases, an email is all you will need.
When visitors come to your landing page, you have only shot to hook them—those 4-5 seconds in which they will make their mind about entering their email.
Do it right and you'll be rolling into subscriber notifications.
Moving further, let's look at most popular lead magnets which all companies use for lead generation. The top ones are Ebooks, webinars, email courses and White papers.
Method 2. Lead Generation through Ebooks
Everyone knows what ebooks are. Books in the form of pdf or epub which can be read on mobiles and PCs. And since creating an ebook cost almost nothing, it is the cheapest form of lead generation magnet.
Ebooks are generally created on word or doc and then converted into easy to read formats.
However, if you want to add aesthetics to your ebook, you can use an ebook template. A single search on Google will bring you many paid and free templates from Hubspot, Crello and Lucidpress.
Best practices for creating an ebook
1. Be Specific:
Before you start writing, it's good to figure out what relevant information you'd be giving to your users.
If your business provides services for different categories of users, create different ebooks targeted at different groups.
Creating a buyer persona will help you target your book to the right audience.
2. Select Right Keyword:
Most popular types of marketing ebooks are "How to guides" and "information about some resources or tools".
The difference between an ebook and a white paper is that ebooks are longer and are more reader-friendly.
3. Decide the Length:
50-60 pages are the most prevalent norm for ebooks. However, there's no strict rule. Focus on delivering the entire content rather than trying to lessen the page numbers.
4. Attractive Index Page:
Provide a clear index page and an introductory chapter. This way, users will know exactly what they'll be reading.
At the end of the book, add a chapter to summarize everything you said in the book.
On the ending pages, tell something about "what to do next". You can ask readers to join you on social platforms or drive them to your website.
Just like any other copywriting method, use visuals like infographics and images wherever needed.
Method 3. Lead Generation through Email Course
Email courses are the newest yet very effective tool for lead generation.
As clear from the name itself, it is about teaching something to your audience through a series of automated emails over a pre-defined number of days.
An email course for lead generation works like this: you ask for people to sign up. And then, via an autoresponder, you send them the course topic by topic at regular intervals.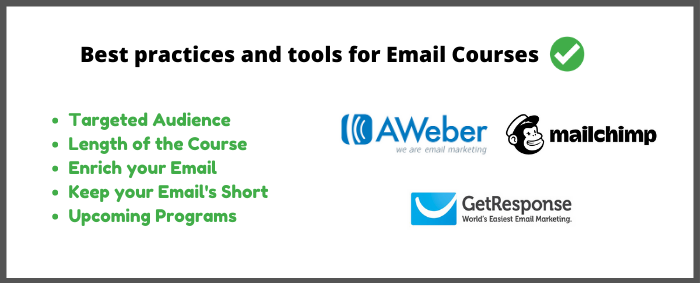 The advantage of email course is that you can give an explanation of a resource or tool or a broader course and then pique their interest in getting more.
This way, you will not only have lead generation but a fair chance of conversions as well.
Creating an email course is very easy. All email marketing tools like Aweber, Mailchimp and GetResponse provide this facility.
In addition to providing a large number of templates to choose from, they also help you to create groups of the audience and with detailed analytics.
Aweber costs around 19$ a month with a one-month free trial. Mailchimp is free up to 2000 subscribers.
Best Practices for Email Courses
1. Targeted Audience:
Just like an ebook, target the group of people who'll be interested in your course. Give clear information on the landing page about how long the course will run.
Giving an overview of the topics is also a good way to arouse curiosity.
2. Length of the Course:
For beginners, don't go for a very large course. Start with a course of 8-12 days. Based on the feedback, you can decide if you should a long course or not.
3. Enrich your Email:
Emails don't have much room for visuals. This is why it is important to use texts and images efficiently.
4. Keep your Email's Short:
People have a tendency to skim through large emails. Avoid pumping a lot of information in one email. Going with 300-500 words in each email will be the best.
5. What's Next:
Just like the ending of an ebook, provide information about what your audience should do next.
Method 4. Lead Generation through White Papers
There's only a slight difference between an ebook and a white paper.
While ebooks are more reader-friendly, white papers are formal and deal with researches, problems, trends and case studies.
Ideally, white papers are smaller than ebooks, mainly 15-20 pages with a large number of graphs and pie charts and tables. However, just like an ebook, you should focus and deliver complete value.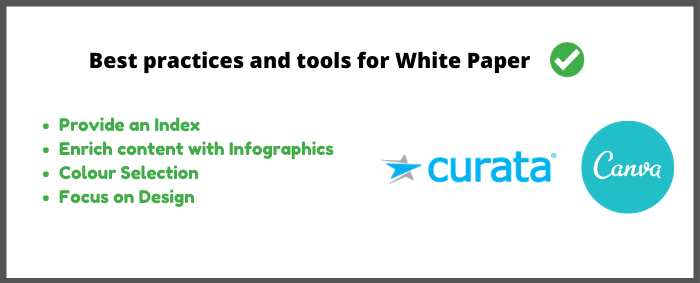 Best Practices for creating White papers
Figuring out what your visitors will like to read is same as what we saw in ebooks and email courses.
Since white papers are formal and rich with data, it is more suited for B2B who want to lead generation.
1. Provide an Index:
Give an introductory chapter about what the white paper is about and who are the creators. Explain the problem or current industry trends through data and charts.
Explain the solution in detail. Add testimonials and case studies to strengthen your findings.
End with a brief conclusion.
2. Enrich Your Content with Infographics:
Use a rich combination of text and graphics like infographics, graphs, pie charts and tables. You can create graphs in MS Word and Google Docs.
However, if you think the readers will recognize this, you can use tools like plotly.
3. Colour Selection:
Maintaining uniformity is important. Follow the same colour pattern for the entire white paper.
4. Focus on Design:
If you are looking for a template, you can use Curata for MS word. It takes very easy steps to use.
If you are familiar with designing, use Indesign. If you don't have much expertise, then you can always hire freelancers to do this for you.
Method 5. Lead Generation through Webinars
If you are good with cameras and presentation, then Webinars are the best form of Lead generation technique.
Webinars are effective because you can know exactly how many people engaged and stayed until the end. People who left in between were clearly not interested in your content.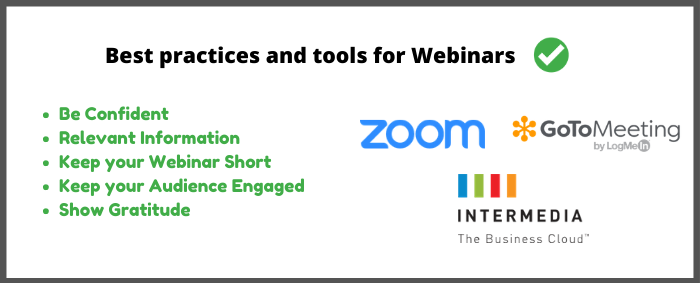 So, basically, it means that you will have a real lead generation, not a false one. For ebooks and white papers, you can never know if the audience read them or not.
The best platforms for creating a webinar are Anymeetings, GoToMeeting and Zoom.
However, if you don't have the budget, then you can use YouTube Live stream or Google Hangout. All of them provide live chat and information about how many people are watching it.
Youtube doesn't allow you to add powerpoint presentation, but instead, they have cards. For Google Hangouts, you can easily share your screens.
Best Practices for Webinars
1. Be Confident:
It's true that creating webinars are more difficult than creating ebooks and email courses.
You should have good speaking skill and fluency in front of the camera.
Creating appealing PowerPoint slides and having expertise with making presentations is important. The quality of the webinar should be high as it will keep the viewers until the end.
2. Relevant Information:
On the landing page where you announce your webinar, also add the date and time when it will take place. Remind the subscribers a day in advance via email.
3. Keep your Webinar Short:
The ideal length of the webinar is 1 hour. Longer webinars can become boring.
So, create the script keeping in mind that you have to finish it in one hour along with addressing the comments in between.
The best way is to mark time-limits at various places on the script itself. This will help you know if you are delayed.
4. Keep your Audience Engaged:
Ask questions in between to keep the viewers engaged. Reply to their answers and opinions in a friendly way.
5. Show Gratitude:
Try to sound like you are helping people rather than doing an advertisement. In the end, thank them for staying with through the webinar.
Conclusion
Lead generation via lead magnets is all about providing exciting values to your visitors. Bright colors, easy words, cool graphics are what you need to hook people and make them want to know more. And when they want to know more, that's when you get the leads.
We hope that with the above-mentioned practices, you'll be able to attract a large number of people to sign up for your newsletters.