When it comes to SEO, a genuine plugin for WordPress is recommended to optimize your content for Search Engines.
There is no doubt Yoast SEO is very popular among WordPress users and used by more than 5 million users worldwide.
That's huge. Right?
If you're starting a blog then Yoast must be in your installation list.
In this Yoast SEO review, we'll see how efficiently we can use it to boost ranking positions.
SEO plugins don't make a direct impact on the SEO of your website. But yes it gives you suggestions that can help you to achieve your SEO goals.
Let's get started and see how to set up Yoast SEO and its benefits.
Quick Introduction
Yoast is an SEO plugin that helps users with their Search engine optimization. Also, helps them to beat their competitors.
If you're wondering what SEO is, then this guide may help you.
There are tons of techniques that are used to improve search engine ranking and optimization of content is one of the most important factors.
Yoast helps you with:
Title and meta description templating.
Implementation of schema that search engines understand.
SEO & Readability analysis of your content.
Generating XML Sitemaps.
Breadcrumbs
FAQ & How to Schema
And many more features that we'll discuss in-depth later in this post.
Yoast comes with both a free and premium version and its paid version will cost $89 for a single-site with 1 year of support and updates.
If you're a beginner and exploring things then you're good to go with the free plan.
I personally never recommend spending $89 on its premium version as long as Rankmath is freely available in the market.
Yoast automatically sets canonical URLs to maintain the originality of the content.
Let's began with the review part:
Yoast SEO Review:
Yoast SEO is an excellent choice among many other popular plugins and famous websites like wpbeginner are using Yoast SEO on their million-dollar blog.
Yoast gives you the ability to link your website to popular search engines webmaster tools such as Google, Bing, Baidu, and Yandex.
This helps you to explore search performance reports.
Free Vs Premium
Yoast Free version does everything that is needed to achieve a good SEO result and offers various features such as:
Single keyword optimization
Title and meta description templating.
Gives you the SEO & Readability score.
Social Media preview (Google, Facebook and Twitter)
Generate XML Sitemaps.
Add schema.org data to help search engines to understand your content better.
Add Breadcrumbs to your posts
SEO optimized FAQ Schema
How to Schema
Where premium version offers:
All FREE version features.
Allows you to add multiple keywords along with focus keyword.
Suggest you content that needs updation.
Suggestions for internal-linking to other pages on your website.
Generate reports of keywords that you use most frequently.
A redirect manager that helps you prevent 404 Page Not Found errors.
Internal linking suggestions while you write.
Add-free and 1 year of support
Pretty huge list. Isn't it?
How to Setup Yoast SEO?
Now before jumping into the review part let's see how to set up Yoast SEO plugin on a WordPress website.
Step 1: Go to Plugins and Add Yoast SEO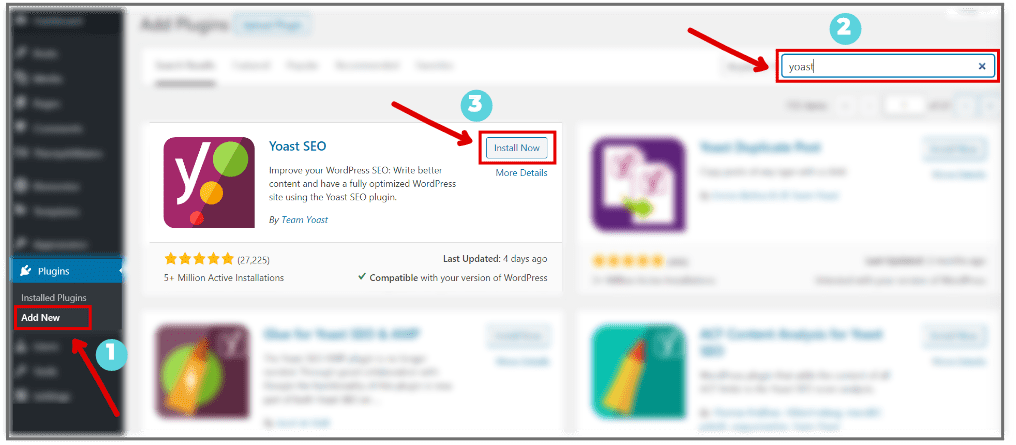 Step 2: Activate the Plugin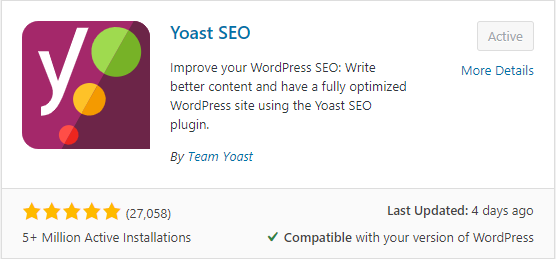 That's it. You have now install Yoast SEO plugin on your website.
Step 3: Open Configuration Wizard
If you're a non-techy guy then no need to explore each feature manually, Yoast configuration wizard will take care of the initial setup.
Step 4: Start Installing Yoast
Now, close the installation wizard and you'll be redirected to the Yoast dashboard. The basic setup of Yoast has been done.
For in-depth knowledge of each module read further.
In-Depth Explanation of Yoast Settings:
So, after setting up Yoast SEO let' see what services it offers
Yoast SEO General Settings
At the dashboard, you'll find problems and notifications bar which indicate new notifications or some serious SEO problems on your website.
At the features tab, you can on and off different features of Yoast with just one toggle.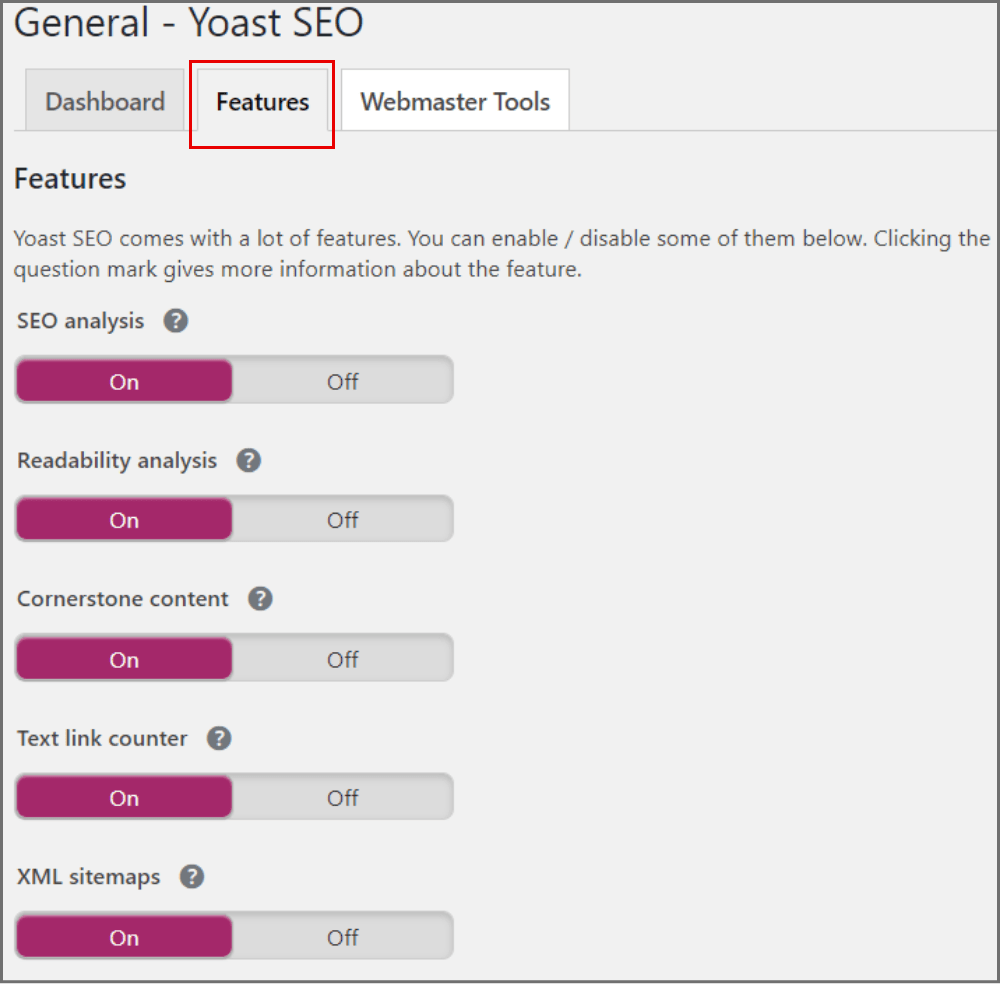 Clicking on the question mark icon gives you brief information about the same.
Some of the features it offers are:
SEO analysis: It offers suggestions in the editor to improve the SEO of your text.
Readability analysis: It offers suggestions in the editor to improve the structure of your text.
Cornerstone content: It lets you label your content as pillar content of your blog. (The content that is most important and detailed).
Text link counter: It counts internal and external links of your content.
XML sitemaps: It helps you to generate a sitemap that helps search engines to discover your content.
Ryte integration: It checks if your website is indexable or not by search engines on a weekly basis.
Admin bar menu: It gives you a shortcut in your admin bar to different tools.
Security: It helps to remove blog posts from search engines and modification of canonical URLs.
Usage tracking: It tracks your data to improve Yoast plugin (I keep it off)
REST API: It gives you post data in JSON format (developers thing).
In the last tab, you can easily configure webmaster tools by verification links.
Yoast SEO Search Appearance
It is the most crucial section of the plugin which controls each and everything related to search appearance and SEO of your website.
Read it carefully and don't mess with these settings.
All these settings are global in nature that means changes done here reflects on the entire website.
Note:  These settings can be overridden easily. You can change each and every setting in a single post as well.
1. General
It allows you to add SEO Title and Meta Descriptions of your homepage with variables.
Title and Meta description will appear in search results whenever someone finds your website.
2. Content Types
It allows you to add SEO Title and Meta Descriptions of your posts, pages, single templates, and google web stories.
Writing a powerful meta description helps you to achieve high CTR in organic search results.
3. Media
WordPress is a great platform and has numerous functionalities under the hood.
Whenever you upload some media file to WordPress it creates a separate page for that.
Yes. "separate page". It doesn't make any sense to me as well.
To avoid these extra pages from search engines and visitors, redirecting attachment URLs to original pages or attachment itself is recommended.
To do so, you just need to simply turn on the toggle that's it.
Else, such pages can be referred to as thin pages in SEO and might have a bad impact on your site's SEO.
4. Taxonomies
Taxonomies generally refer to dividing a piece of content into sub-categories.
This block of Yoast has search appearance settings for taxonomies of your website such as Categories and Tags.
I personally never recommend indexing your category pages in the google search result just because they're duplicate pages of original content.
Your indexing should be very neat and clean if you want to drive massic organic traffic to your website.
5. Archives
Archives could be anything apart from original pages and posts.
In WordPress, the archive could be 404 pages, search results pages, author pages, date archives and so on.
It's your personal choice to index the author and date archive into search results.
According to me, date archives are worthless and don't make any sense in search engine results.
However, indexing author archives could be beneficial in personal branding.
6. BreadCrumbs
Breadcrumbs are my favourites.
Breadcrumbs are basically a path to the URL you're active on.

They provide crystal clear navigation of a website and majorly present at the top of the page.
Breadcrumbs give positive signals to search engines and help them to easily navigate and understand your content.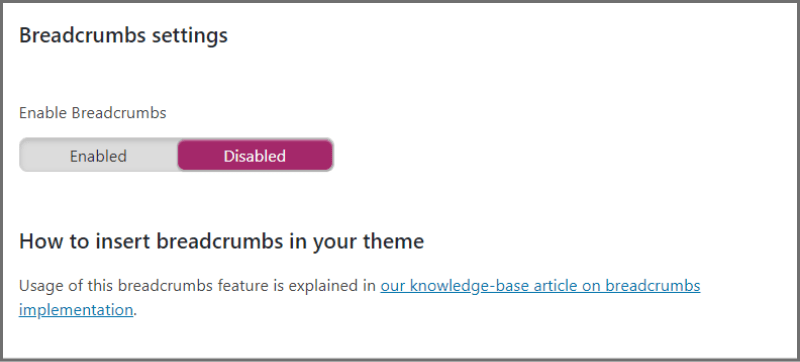 Yoast provides great functionality for implementing breadcrumbs through a shortcode.
You can choose how you want to show your breadcrumbs on your website.
7. RSS
RSS feeds are great for driving recursive traffic to your website.
Yoast gives you the functionality of setting up RSS feeds in an easy way.
You can easily write "What to put before each post" and "What to put after each post".
Social Settings – Yoast
Inside the social tab, you can add your social media profiles which helps search engines to identify your social network account and to display them in search results.
All this is done with Open Graph tags.
What is that?
Open Graph tags are basically code snippets that will take your website SEO to another level.
These tags are used by social media platforms to understand how to display URLs on timelines.
Open Graph protocol was originally developed by Facebook and nowadays used by almost all social media networks to handle URLs.
Almost all SEO plugins have this functionality to add open graph tags to your URLs so that they look beautiful when shared on social media.
As of now, Yoast gives you the capability to configure open graph tags for Facebook, Twitter, and Pinterest.
Yoast SEO Tools
Yoast comes with few inbuilt tools such as:
Import and Export: Helps you with importing & exporting settings of Yoast SEO.
Bulk Editor: It lets you bulk edit the title and description of pages and posts instead of editing each post individually.
Text Link Counter: It counts no of links in your post and no of links to your posts.
SEO Data: It's a kind of backend process where Yoast keeps track of metadata for all pages.
Final Words: Yoast SEO Review
Remember, Yoast is an SEO plugin and it can only suggests you relevant changes that may help you in the ranking.
Don't fall in the misconception of achieving high rankings in search engines every time because it depends on a lot more factor such as authority, content quality and backlinks.
Yoast suggestions are good enough to let you write high-quality content and helps you with improving internal linking as well.
In this Yoast SEO review, I've covered almost all aspects of Yoast and hope you've no doubts left.
Do let me know if you have any below in comment section.