Finding a domain name for your business is not an easy task and need lots of efforts. You'll need a domain name that is meaningful, easy to remember and simultaneously describing your business.
In this guide, I will help you to choose a domain using some domain name generator tools.
Maybe the domain name you are searching for is already taken or the domain extension like .com is not available sometimes.
Then what?
No worries.
Also, If you're planning to build a blog from scratch then in this article, I will help you find some catchy website names with below-listed domain name generator tools.
Below listed domain name generator tools are almost free and you can save your time by using any one of these.
Let's get started.
1. Lean Domain Search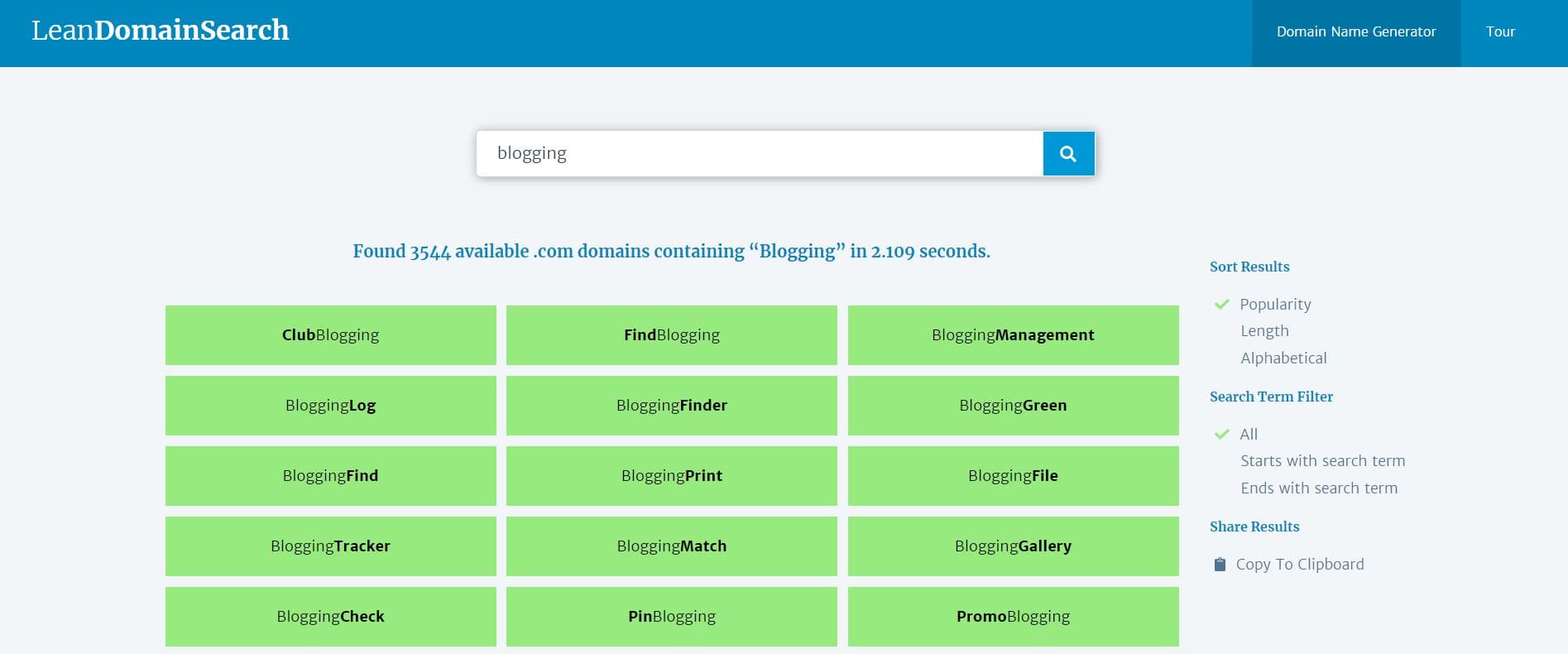 This free domain name generator tool is developed by WordPress. It looks simple on its homepage but it can help you find some great domain names as soon as you hit the search button. It will bring hundreds and thousands of name combination matching to your search query.
Sort your results based on Popularity, Length, and Alphabets.
Filter your search terms
Share the results
Visit Website: www.leandomainsearch.com
2. BustAName
This tool is insane. Trust me. Don't go with the basic looking UI but the way this domain name generator tool will help is fantastic.
It offers numerous filtering tool based on extensions, suffix, prefix, and characters.
If you don't have any domain name in your mind then you can also try some random domain names by clicking on the random button.
Lots of suggestions.
Random domain names.
Filter on the suffix, prefix.
Filter available and taken domains.
Start With, End with filter.
Visit Website: www.bustaname.com
3. NameStall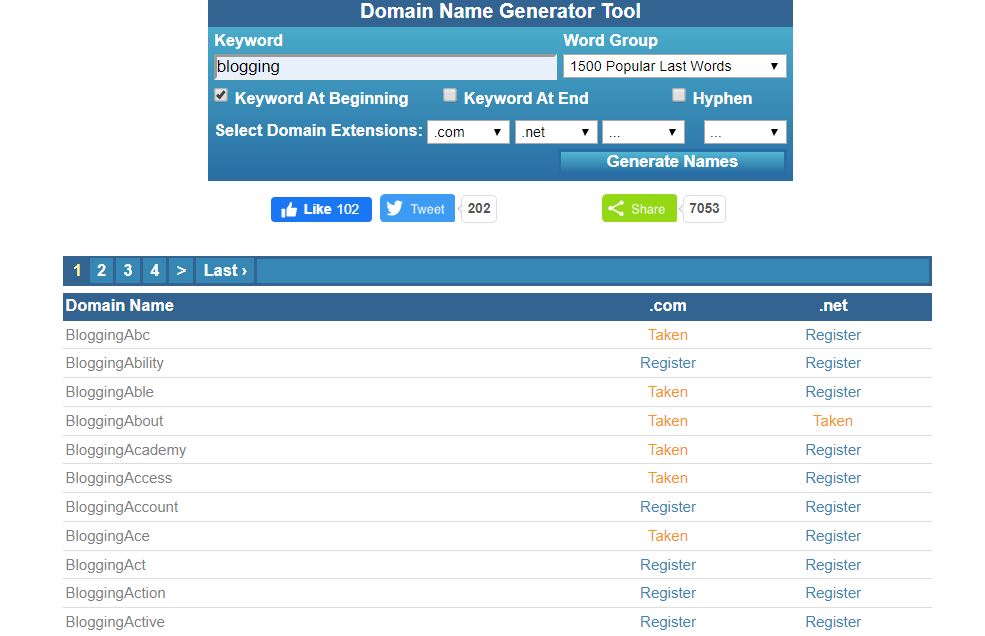 It is very similar to BustAName but the good thing is that by default this tool will show you the availability of the domain, whether it is available or not.
You can also include a particular word group with Adjective, Nouns, Basic English Words, frequently written words and many more.
Shows multiple domain name extensions, available at once.
Greate name suggestions.
Multiple search filters are available.
Visit Website: www.namestall.com
4. NameBoy
Nameboy allows you to search with one or two terms at once and it will instantly deliver the available domain list based on your keyword.
With this tool, you can check the domain availability with Bluehost and can buy directly by clicking on the buy button.
No filtering available.
Check and buy a domain with Bluehost instantly.
Shows domain name available for resale.
Visit Website: www.nameboy.com
5. DomainWheel
This tool is similar to Nameboy, giving some great suggestions and also some random ideas to pick a domain name for the website. Domainwheel allows you to buy a domain from Bluehost but it is not compulsory to buy from Bluehost, you can select your favourite domain name and buy it from anywhere else.
Check availability with Bluehost.
Random keyword ideas.
Multiple filters based on domain extensions.
Visit Website: www.domainwheel.com
6. NameStation
Namestation can help you find some great domain name but for advanced filtering, you have to sign up on their website. It allows you to choose over 100+ domain extensions, which is quite impressive.
100+ domain extensions are available to filter.
Include related words.
Include popular affixes.
Visit Website: www.namestation.com
7. NameMesh

This is one of the best tool available to search for domain names but user gets sometimes confused because of their interface suggesting names on may different charts. The best thing about this tool is that you can filter based on multiple domain registrars like Godaddy, Namecheap, Hostgator, etc.
Infinite name suggestions.
Complex user interface.
Filter basis on domain registrars.
Filter on domain length.
Visit Website: www.namemesh.com
8. Impossibility
Impossibility gives you various suggestions and checks availability with Godaddy on runtime. You can choose whether your search term would be at the beginning or at the end.
This is a great tool to search for domain names.
Great suggestions.
Mixed keywords.
Check availability with Godaddy.
Visit Website: www.impossibility.org
9. Panabee
Panabee helps you to find a name for your business and if you didn't like them then it will give you some random suggestions. After selecting your favourite domain name you can visit Godaddy and buy your domain name from there.
Two keywords allowed in search terms.
Filter on domain extensions.
Visit Website: www.panabee.com
10. DomainTyper
This is also a great tool in order to check the availability of the domain on different extensions. It also helps you to check the name availability on the social media platform that is different from all the above-listed tools.
Social Media username checker.
Name suggestions
Visit Website: www.domaintyper.com
I hope you've gone through some domain name generators. If yes then do let me know your newly bought domain name in the comment section.
Also, If you haven't get your domain name then try Bluehost and get 1-year FREE domain.