Bother about the traffic on your website! Putting a lot of effort into good and high-quality content but it does not work in getting traffic to your website.
Want your name to stand out from the general crowd and become a matter of discussion between the notable bloggers.
So here are some tips to craft the perfect guest post pitch.
Before diving into the bottom of the bed let's examine the surface.
Before approaching for a guest post you should give a check to
After giving a check to the basic elements you are ready to approach the renowned bloggers.
What is Guest Posting?
Guest post is the practice to write for someone else's website or blog. You are the guest on their website that's why your post will be named as 'Guest post'.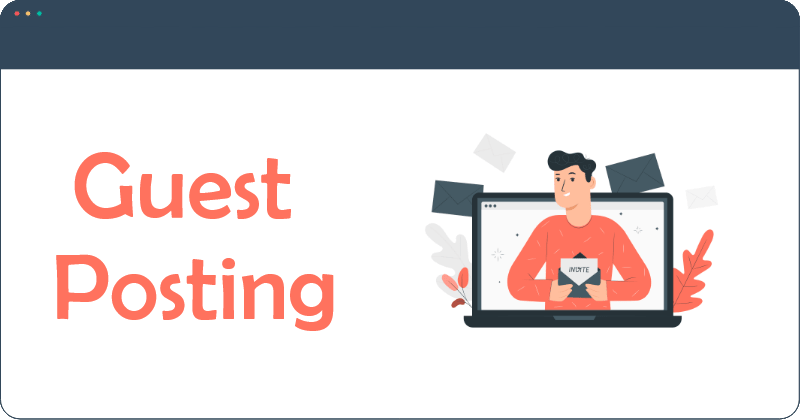 The host will provide exposure and an external link to their guest. You will get the exposure of wide and new audience provided the content is related to the niche of the host's website.
Purpose of Writing Guest Post
Be a person who lives his life with a real purpose. Every work has its purpose. What we want is that the purpose must be completed after the work is done.
So writing a guest post hides the purpose of the guest as well as the host. Writing a guest post can be beneficial in completing the following purposes:
Guest Post helps in increasing traffic to your website
It works in building a relationship with the host
It will help in collecting the email address
Awareness of your brand in society
It will skyrocket your social media followers
Guest post will add techniques to the writing skills and other skills as well
It will leave a mark of your website on the retina of the audience
So I think you have a bit understanding of what is a guest post.
If you are abecedarian for the guest post and looking for the opportunities then take a step forward in knowing how to find guest post opportunities.
How To Find Guest Blogging Opportunities?
Finding guest post opportunities sites is not an easy task and takes lots of effort because once you find whom to pitch then you can easily pitch them with your strategies.
Let's discuss some quick ways to find guest post opportunities.
1. Google Search
Google is the solution to every answer and unanswered problem.
If you are willing to write a guest post for the fulfillment of the above-mentioned purposes then you can take help from google to find the way for you.
You can search by using different keywords like
Guest post sites
Guest post opportunities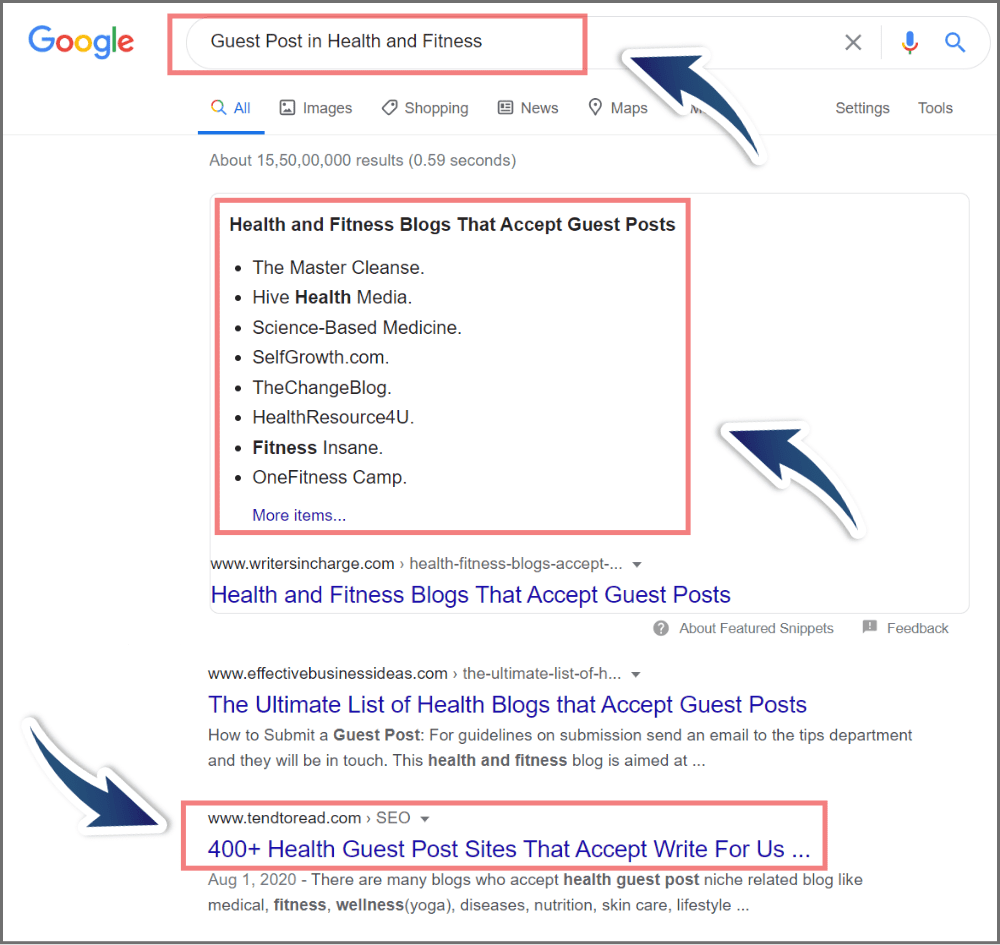 If you are domain-specific then you can take help from the following keywords
"Guest Post in Marketing"
"Guest Post in Health and Fitness"
"Fitness blog that accepts guest post"
"Guest Post in Technology"

If the particular website or blog is in your notice then you can search by keywords by
site:xyz.com "Guest post by"
site:xyz.com "Guest post"
site:xyz.com "Write for us"
site:xyz.com "'Guidelines guest post"
2. Find On Social Media
Presently social media brings a turning point in people's life. Even social media is behaving as an education institute in many aspects like organizing the competition, webinars, live sessions, and even in providing jobs.
Social media can be the best platform in providing opportunities for the guest post.
There is hardly any percentage of the population who are not active on Instagram, Twitter, Facebook, and so on.
You can search for the blogger and look if he is asking for a guest post. You can reach them by an impactful message.
You can search by using the hashtags like #guestpost #guestpostservices #guestposting #guestblogpost
Social media has different features like Facebook pages, Facebook groups, stories, etc through which you can reach the guest post providers and services.
3. Keep Reading
Starting from childhood our habits have been molded into the habit of reading. And it truly works in making a career. It gives us all the valuable information and knowledge which one needs to understand and note.
Reading posts of great bloggers can help you in knowing their writing methodology, provides you the knowledge, and will ease your problem of writing guest posts.
You will come to know about the sites your webmaster writes for.
Reading blogs with high domain authority and posting on it will give a push and add weight to the backlink that you have.
Reading blogs will help you to know about the specific topic the host is looking for to publish among the audience. So grab this opportunity because it can be a win-win situation for you.
4. Give a Check
You can check for websites and blogs that give you the name of the website involved in accepting guest posts.
Check the directories and choose the best out of them which matches your content and niche.
Rely on the posts that are ranked by Google as there will be fewer chances of spammy blogs and posts.
You need to be smart, tricky and to be ready with high-quality content.

This is because the top and high DA websites receive 'n' numbers of mail for the guest post and to get picked by the webmaster eyeballs your ideas should be different and unique.
Now you are ready to explore the topic so come lets dive in together that will favor us to know about the tips to craft perfect guest post pitch.
5. Pitch Elements
Knowing the basics of guest post its time to look for the elements involved in guest post pitch.
5.1 Topic
This is one of the topmost elements that one should always keep in mind before going to the webmaster. The guest post suggestions should be interesting and relevant. It means the decided topic should highlight the following parameters:
You have gone through the webmaster website closely
Topic or Title must be of their use i.e. it should be niche-oriented
Topic ideas should answer their upcoming plans
Use keywords that are popular in the industry
There is a tip for you all that can help you design the title in a better way. Always note to use keywords with your creativity to design a perfect and eye-catchy title.
5.2 Personalization of email
This is the next and prominent element of the guest post pitch. Personalization of mail is mandatory to get selected by the host. You can personalize the email by
Approach them by their name
Tell them about their work and use some tricky ways to show you love their work.
Ask them to check for your posts and to connect on social media
Give them a reason for your interest in their website's niche
There can be reasons behind why your pitch didn't work and fail to influence the host so you must take care of
Sentences
Grammatical mistakes & Spelling errors
Body & Formatting of the email
A niche of the website
Personalization
Not meant only for promotion
No excess use of mass outreach template
5.3 Outlines
It is the third and main point before sending the guest post email pitch. This is the step where you make him understand your writing plans.
After working on the title its time to come up with the new ideas which you will include in the content.
Keep the content ready in the form of emphasizing outlines and bullet points
Outlines should be descriptive i.e. it will elaborate clearly about the whole content
Outlines and bullet points should make a clear image on the retina of the webmaster
How To Write Perfect Guest Post Pitch?
For the sake of purposes discussed above the central idea lies in crafting the pitch. The guest post is the perfect idea that must be followed by the website owners with some good strategies.
So keep your eye forward and catch the following heads
1. Target Blog
Before writing the post there are some to-do which is essential to note down
Decide the title of your post
Search for the blog related to your niche
Keep your focus on the blog that is best in your perspective
Read comments by the audience in their post as this will help in knowing the audience there
Carefully read the blogs of your interest and decide which one is meant for you. This will help to save time looking for different blogs and help you to understand the workflow accordingly.
After understanding the targeted blog you can contact the blogger via email and write a message to the right point.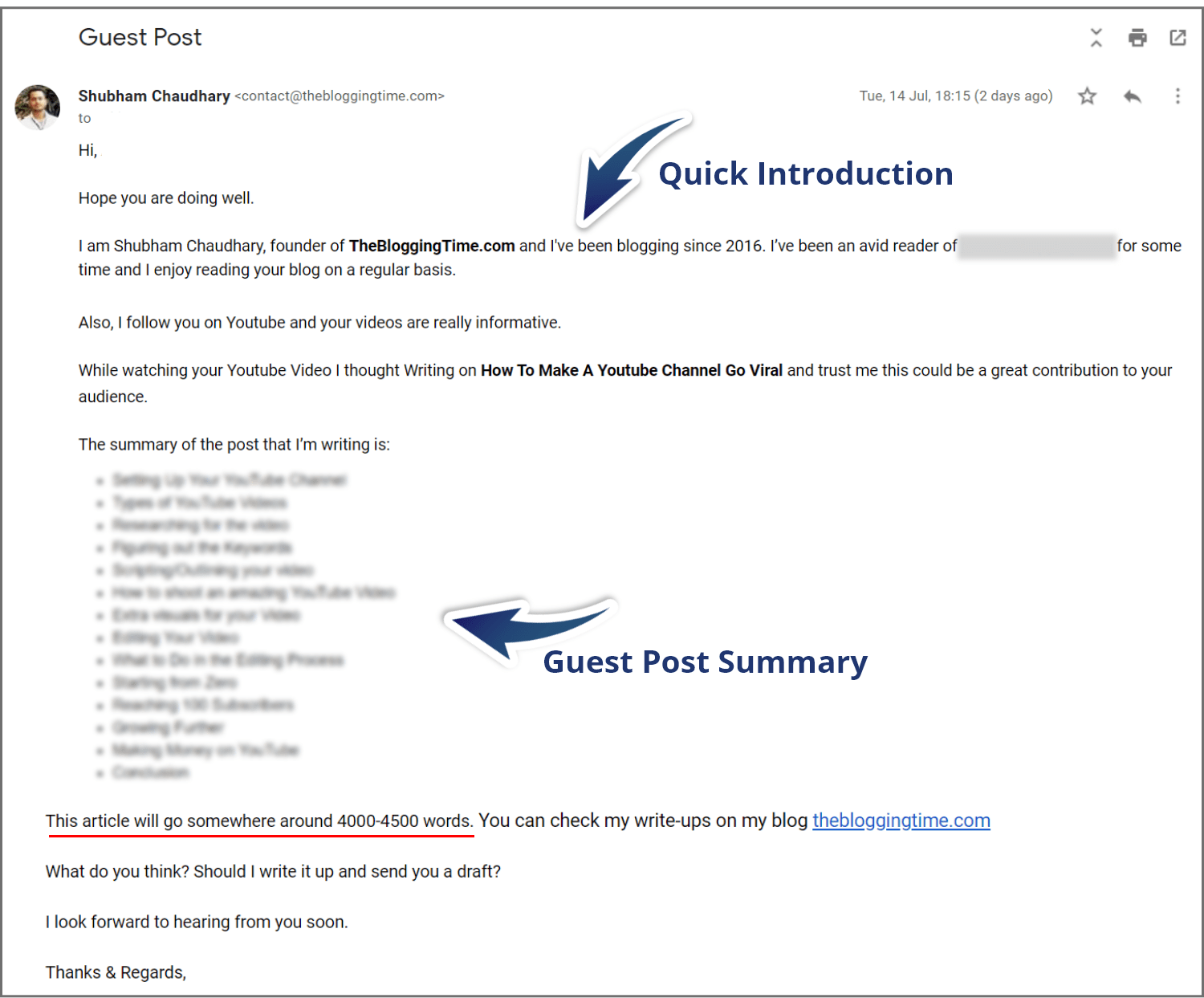 You can mention your work and even you can mention your post that is ranked by google. Give them a reason to say yes. Don't be arrogant just be yourself.
How to find email address?
In order to find an email address of any blog owner you can follow any of the step given below:
Find Contact Us page of the blog
Use email finders such as Hunter.io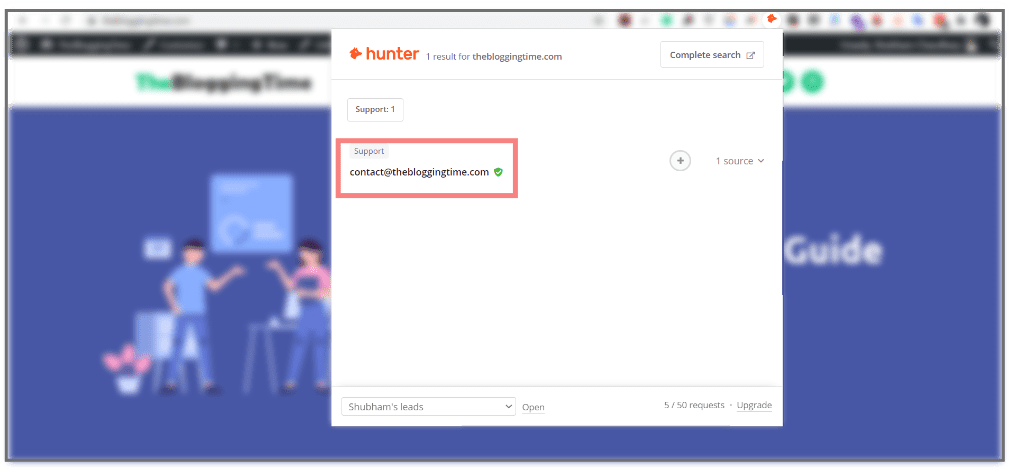 This is how you can use hunter.io chrome extension for free to find email addresses.
2. Research
Research is the best way to know about the current scenario. One should always get ready with his computer, pen, and paper for doing research. It involves you finding what is unanswered till date.
When you decide the perfect blog for you now it is the time to research that blog.
Keep reading the posts published on that blog
Find out what is unanswered
Look the way of blogger's writing
Give a check to the keywords
Try to find out the topic in which you have detailed knowledge
Note some basic points in their posts like the post length, infographics usage
Read the guidelines for the guest posting on the targeted blog
Let's see an example of guest posting guidelines:
This is what you should keep in mind while writing your post.
In addition, Be with ideas that blend well with his website's niche and that can work better for the audience as well as for the blog.
New ideas and suggestions that are relevant for the targeted blog have high chances of getting favored.
3. Body Of The Email
Done with research?
Now let's write an email to the blogger.
This shows how professional you are in your business. If your email is effective then you can opt for the guest post.
Firstly let's see what leads email to be in the trash
No optimization of Subject Line
Lack of Introduction of Guest Poster
Poor email Body
Grammatical Errors
Low Quality and Copied Content
Wrong Niche
If you do not want to wait for days and to get placed in the receiver's inbox just practice the following to have your email done
Optimize your subject line by A/B testing
Introduce yourself and your website
Tell why you reach out to them
Give unique ideas with a description of the content (outline of your guest post)
Provide them your work sample
Ask them to check your website and social media profile
Signature
Add quotations can be right
Hello, [Name]
I am [Your Name], [founder/blogger/ceo] of [BlogName/CompanyName] and I've been a subscriber of [Blog Name] for some time now, and I especially enjoy reading to [Blog category] frequently.
I've been working on an idea for a post about [blog idea] and it struck me that this would be a great fit for your audience.
Recently, I've had several successful guest posts on major blogs including [Blog Name], [Blog Name] and [Blog Name] – which you can see here:
The summary of the post is…
Heading 1
Heading 2
Heading 3
What do you think? Should I write it up and send you a draft?
I look forward to hearing your thoughts,
Thanks,
[Your Name]
Additional suggestions for email
Be humble and pay respect to the webmaster
Don't bother them by pinging shortly
Remind them of your mail weekly
In case of no response, go for other opportunities
4. Great Content
The needle stops here.
Yes, you need to be all the degrees of great here i.e. great, greater, and greatest.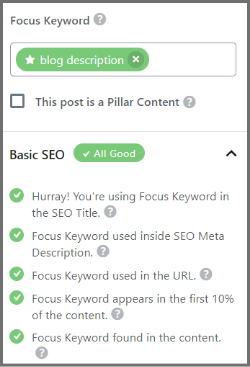 Your content should be like the one having its identification.
It should be original and without plagiarism.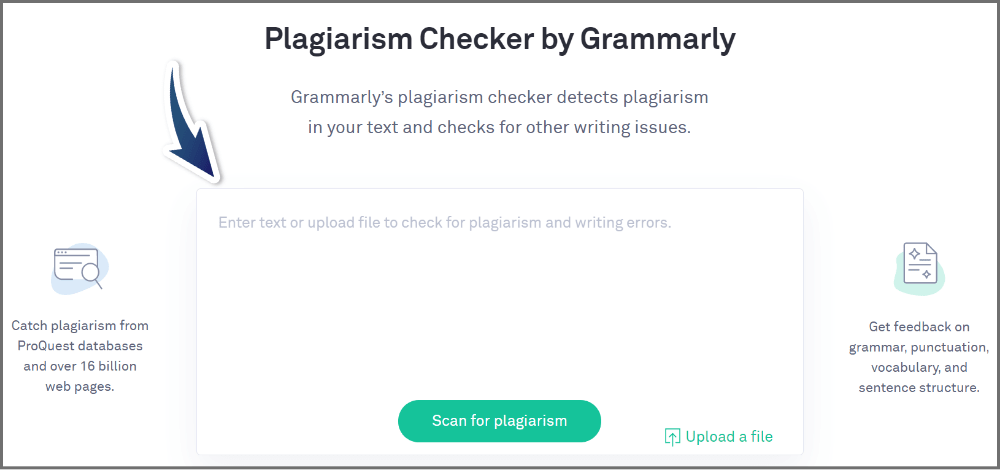 Tools like Grammarly, PlagScan, and Quetext can help you in checking the plagiarism of your content.
The content is what the host, the users, and the posters ask for. It is the solution to the reader's problem and the bloggers are here to solve it.
So be relevant, be persuasive, be impactful, be descriptive. It should give a feel like you are striving to share all the knowledge you have of the topic.
5. Internal Links
If the ball comes in your hand, play it with strategy.
You know what I mean
Here ball means opportunity and strategy points to the writing skills.
Having good content is not enough.
You need to work on the adjustment and series of headings and subheadings. A guest poster must know of the positions of the headings and put them orderly.
For highlighting good writing it should be taken care that we are providing internal links in the post.
To provide internal links in the post
Use keywords that relate to the previous post
Highlight or bold the links
Find related posts in the category page.
Search site:xyz.com "keyword" on Google.
By searching on Google, you'll find all related posts to the keyword and you can easily improve internal linking.
Mentioning internal links will reflect that you have a good concentration on the blog. It will tell the host that you research the website carefully and write the post as it is your job.
6. Adding Summary
Do all the work that needs to be done in writing the post like
Deciding the topic
Study the material relevant to the topic
Ready the outlines
Write the content in detail
The last step is writing a summary of the topics mentioned in your post. This creates ease in reading and understanding of the whole post.
It will help users in case of a time boundation as this will make a layout of the title in their mind.
I hope these tips will surely work for you in providing the guest post opportunities and to craft the guest post pitch.
If you find these helpful please let me know by the comments.
Conclusion: Guest Post Pitch
Finding guest blogging sites is not much challenging because that can be easily done by performing some google searches.
The real task is to study someone's blog, approaching them, and then writing a post.
Before writing a perfect guest post pitch you should always follow the below checklist.
Step #1: Find an authority blog in your niche.
Step #2: Study the blog and find the right keyword.
Step #3: Understanding guest post guidelines.
Step #4: Create outline of the content.
Step #5: Send them your pitch email.
Step #6: Follow Up if needed.
Step #7: Write amazing content.
Step #8: Add images, infographics, interlinks to content.
Step #9: Share your content and ask for corrections.
Step #10: Ask for a contextual backlink.
That's it for this post. I hope you've now learned how to write a perfect pitch email for your next guest post.
Let me know in comment section. What you think ?